Women Who Make  A Difference is awarded each year to a woman who has made a difference in Transylvania County.  The award highlights AAUW's mission of "advancing equity for women and girls through advocacy, education, philanthropy and research".  The criteria for the award include demonstrating leadership; sharing their knowledge and expertise; participating in community matters; dedicating their time unselfishly; serving as an inspiration to others.
Below is the application for the Women Who Make A Difference Award
2017 Awardees: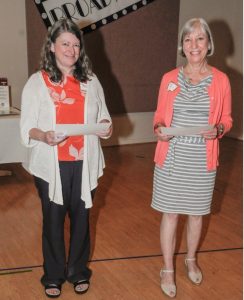 Mary Arnaudin and Jennifer Williams (pictured right), who created the T.I.M.E. 4 Real Science program in Brevard, were presented the "Women Who Make a Difference" award.
This award has been yearly since 1996, recognizing 39 women for their contributions in our community.
Photo by Matt McGregor/Transylvania Times