Women Who Make a Difference is awarded each year to a woman who has made a difference in Transylvania County.  The award highlights AAUW's mission of "advancing equity for women and girls through advocacy, education, and research.  The criteria for the award include demonstrating leadership, sharing knowledge and expertise while participating in community matters, dedicating time unselfishly, and serving as an inspiration to others.
Nomination information is below.
2019 Winner- Women Who Make A Difference, Sheila Mooney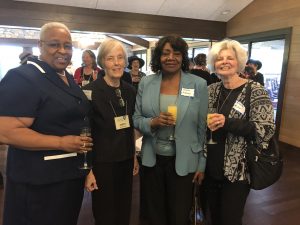 Spring Tea Honoring Sheila Mooney
Left to right: Rebecca Wynn, Amye McCallie, Sheila Mooney, Roberta Miller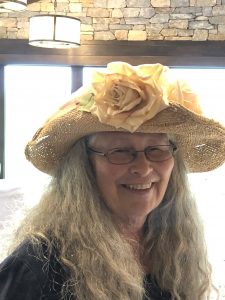 Nominations for AAUW/BREVARD Women Who Make A Difference Award
The mission of the American Association of University Women (AAUW) is to advance equity for women and girls through advocacy, education and research.
Individual nominated (must be a resident of Transylvania County)
Project or activity being recognized:
Describe the project or activity. Please include the following in the description:
Goal of the project
Participants or groups impacted by the activity
Plans for sustaining or expanding the project
Relevance of the program to the AAUW Mission for advancing equity for women and girls.
Describe other activities or projects the nominee has initiated or supported.
Individual(s) making the nomination: ______________________________
Phone: _________________ Email: _______________________________
Please send nominations by Friday, March 15, 2021 to:
AAUW Women Who Make A Difference Committee
PO Box 715
Cedar Mt., NC 28718
For additional information contact Amye McCallie 828.862.8890.
Past Recipients of Women Who Make a Difference Award
1996:  Jinx Ramsey, Fay Walker, Esther Wesley
1997:  Selena Robinson, Kay Elliott
1998:  Mary Cowal, Elizabeth (Lib) Provence
1999:  Phyllis Stout, Beth Glass
2000:  Mary Read, Susan Threlkel
2001:  Cindy Platt
2002:  Joyce Reaume
2003:  Karla Atkinson
2004:  Judy Nebrig, Carson Griffin, Sharon Johnson
2005:  Ladene Newton, Stella Trapp
2006:  Tami Moss, Ann DerGara
2007:  Elizabeth Riley Kapp Tyson, Anna Yount, Kathy Thorpe
2008:  Gail Vance, Betty Sherrill, Michel Robertson
2009:  Nancy Stricker, Roberta Hallinen
2010:  Elaine Deppe, Margaret (Peg) Hansen, Lee Stewart
2011:  Janice Osborne, Edith Darity
2012:  Marcia Harper
2013:  Dee Dee Perkins
2014:  Katie Thompson
2015:  Christi Whitworth
2016:  Elizabeth (Liz) Bates
2017:  Jennifer Williams, Mary Arnaudin
2018:  Isabel Carter Heyward
2019:  Sheila Mooney